Return to Home Page &nbsp &nbsp &nbsp Return to Little Wychwell Novels
A Very Quiet Guest
The Second Little Wychwell Mystery
---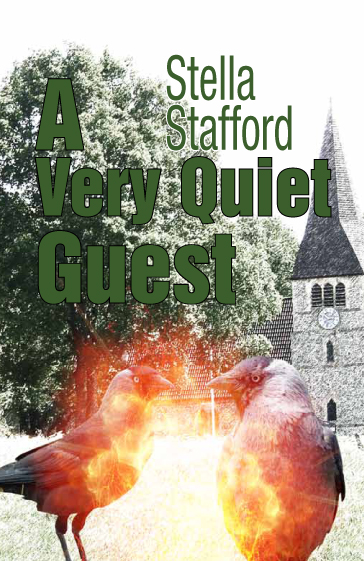 A Very Quiet Guest was published by Melrose Books in May 2012
It is also available on Kindle.
Following the events in 'Did Anyone Die?' Elodea, Barnabus and Priscilla are launched on another crime trail together. Also dragged into this mystery are Barnabus' new girlfriend, Angel, and her musical hamster Isambard and Barnabus' smooth operating friend, Walls.
Elodea is in danger from an unknown assassin. Who can it be and why would anyone try to kill Elodea? Is it Ustin, back from the dead?
This book is the sequel to 'Did Anyone Die?' and ties off all the trailing threads while laying down a few more which lead into the third Little Wychwell Mystery, 'All that Glisters is not Silver'.
The paperback version is available at various places including
A Very Quiet Guest on Amazon.co.uk
and
A Very Quiet Guest on Amazon.com
Reviews
'A Very Quiet Guest' is suitable for any adult reader. There are reviews in many places on the Internet. For example you can find them on Amazon.co.uk and at bookwormink.co.uk

The following sample review is by Jane Coward

I've finished 'A Very Quiet Guest' and I thoroughly enjoyed it. I re-read 'Did Anyone Die' first, to familiarise myself with the characters ( I read many books and I am very old so I need reminders!!) Firstly, I enjoyed 'Did Anyone Die' just as much from the second reading as the first. Although I knew what was going to happen, the humorous moments made me chuckle all over again. I do love the characters - the descriptions of them are vivid and I totally 'get' them.
I found 'A Very Quiet Guest' just as intriguing as 'Did Anyone Die'. I loved all the unexpected twists. I found this book very visual. I could clearly see all the scenes in my mind, particularly the river chase. Perhaps it's because I know the Thames, but in any case, I found myself thinking about which actors should play the characters in a film or T.V. version of the story.. I can see both stories working very well on the screen.
Both books have that "I couldn't put it down" quality.