Return to Home Page &nbsp &nbsp &nbsp Return to Little Wychwell Novels Chapter One of Did Anyone Die? in graphic novel format
Did Anyone Die?
The First Little Wychwell Mystery
---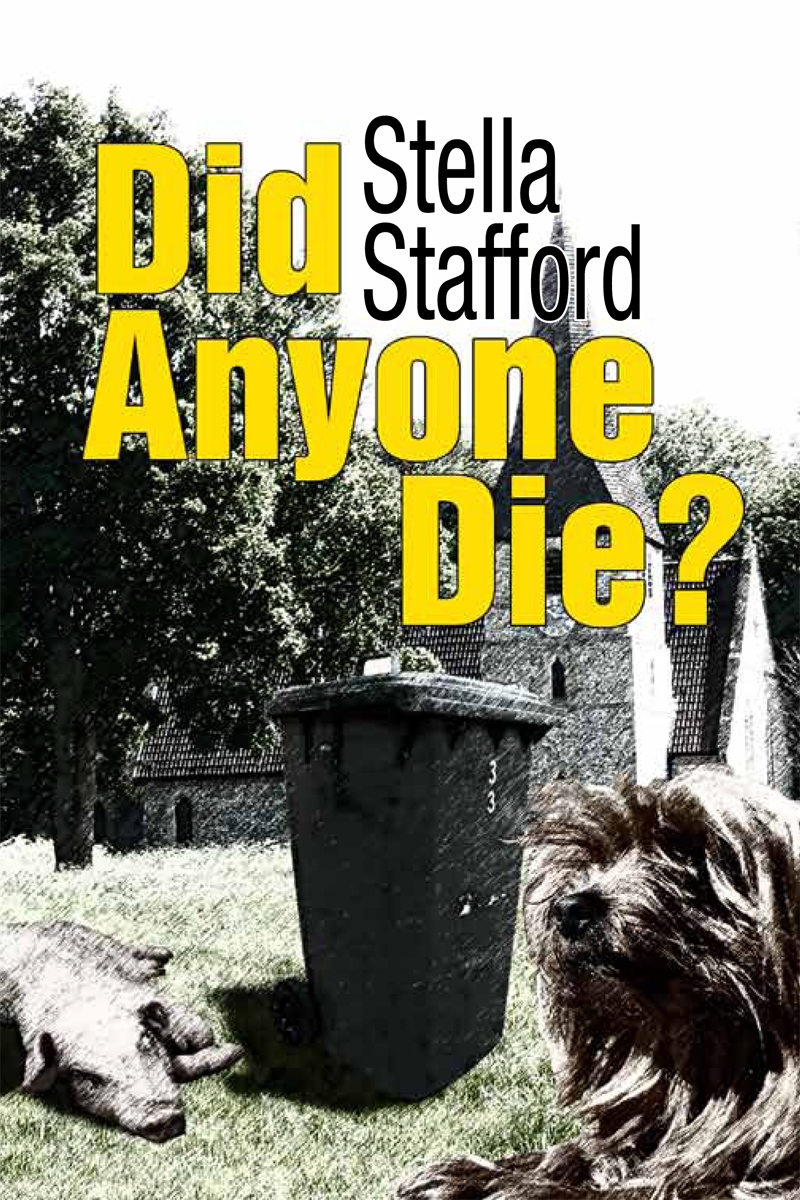 Executive Synopsis
Some are born detectives, some achieve detectiveship and others have detectiveship thrust upon them. Dog sitting can be dangerous.
Synopsis
A missing wheelie bin, a gunfight with no bodies, and a carrier bagful of groceries are the ingredients that make up this ultra-English, present day murder mystery tale. Our heroes are two old college friends, each equally eccentric, one of their sons and a barking mad terrier. Together they must solve the mysteries that have occurred in Little Wychwell, a village in darkest Oxfordshire.

Did Anyone Die? in paperback on Amazon.co.uk
Did Anyone Die? Kindle version on Amazon.co.uk
Did Anyone Die? paperback and Kindle versions on Amazon.com
Reviews
'Did Anyone Die?' is suitable for any adult reader. There are reviews in many places on the Internet. For example you can find them on Amazon.co.uk, Amazon.com, bookwormink.co.uk and epublishabook.com,

The following sample review is by Maria Snell

Did Anyone Die? by Stella Stafford is an incredibly charming mystery that will have you hooked from page 1 with its witty dialogues, razor sharp situations and quite eccentric characters.
Yes, it is a murder mystery...but it reminded me a bit of Fawlty Towers at times. The characters could be nothing but English, the town could not be anywhere but in the English countryside and the characters could not live anywhere else.
Elodea and Priscilla have been friends since University. Funny and absent-minded Elodea lives in the town of Little Wychwell with her scientist husband and her Yorkshire Terrier, Pippy. The very prim Priscilla is a Classics expert at Oxford University - where she lives - while her husband is presently living in Canada and climbing mountains all over the world. These two ladies have been friends forever, but could not be more different - although both of them are equally batty and eccentric.
Elodea witnesses a double murder one evening while walking Pippy, and she meets Priscilla for coffee the next day to tell her all about it. Priscilla - who usually does not pay a lot of attention to what anybody is saying, lost in her own musings - agrees to meet Elodea later that afternoon so they can go together to the crime scene to see what they can find out. When Priscilla arrives at Elodea's home in Little Wychwell, Elodea is rushing to her daughter's side because she has apparently gone into labor with her child. She leaves Priscilla in charge of Pippy the dog, Mr Poggles the pig, church duties and her house in the Vicarage. Enter several other characters: Barnabus, Elodea's son newly arrived from Nepal; the tap-dancing and bird-watching Vicar; Lady Wilmington and her pig handler Mr Cyril; two homeless persons, Fran and Big Frank; a missing garbage bin, and a host of other residents of Little Wychell - and you have the setting for a phenomenally entertaining, fast paced, well-written and absolutely delightful murder mystery!
While Elodea is in Edinburgh visiting her daughter, Priscilla and Barnabus - with Pippy in tow - will try to solve a murder mystery; all the while serving coffee to the parishioners, taking care of a pig, driving back and forth between Little Wychwell and Oxford for rowing practices very early in the morning...and getting into more trouble than they asked for.
You will not want to miss Did Anyone Die? by Stella Stafford - particularly since the sequel A Very Quiet Guest, is out on May 2012! I can't wait to read the sequel, and re-acquaint myself with all these wonderful characters!